Dobbies Garden Centres has agreed the sale of its two smallest centres – Kinross and Cumbernauld – to family-run Caulders Garden Centres.
Dobbies – which bought six Wyevale centres last year, including Woodcote Green – said the sale of these two smaller centres is in line with a strategic growth plan, as it focuses on building a destination garden centre business.
The deal sees independent group Caulders, which is run by Colin and Mandy Barrie, expand its portfolio to seven centres across central Scotland. The business has been trading for nearly 20 years, having been established with a centre in Mugdock Country Park in East Dunbartonshire. Its most recent acquisition was Cupar Garden Centre in Fife, which the Barries bought in 2017.
Dobbies CEO Graeme Jenkins said: "We are pleased to have agreed the sale of our two smallest centres to Caulders, one of Scotland's leading and most experienced independent garden centre operators. We would like to thank our fantastic colleagues at these centres and wish them well for the next stage of their career under Caulders' ownership."
He added: "The sale of these two centres is in line with Dobbies' wider growth and expansion strategy, as we focus on growing our stall with larger destination garden centres."
Under the terms of the deal, all 43 Dobbies team members at the Kinross and Cumbernauld centres will transfer across to Caulders.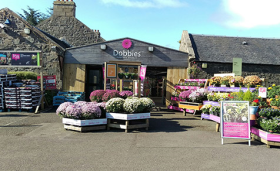 Caulders managing director Colin Barrie said: "We are looking forward to welcoming our new team members to the Caulders family, and to working with them to develop these fantastic garden centres over the years to come.
"There are superb teams at both Kinross and Cumbernauld, who have created successful garden centres for their local communities. The centres are a great fit for us and a welcome addition to our family business."
The sale is expected to complete during February, with the centres reopening as Caulders Garden Centres soon after.