Manufacturer of sustainable Garden Furniture, EKJU are now offering a range of products to help retailers with their online sales, as well as providing stock for traditional in-store sales. The Ecommerce range is packaged ready for home delivery meaning they can supply the same quality EKJU products already prepared for customer home deliveries.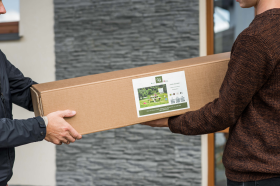 EKJU first launched the Ecommerce range in early 2020 before the COVID-19 pandemic changed the retail climate. This range came just in time with all sizes of retailers having to re-adjust their approach to sales. As more people were at home, spending on garden products increased and the only way to buy was online. According to AMA Research there was a 25% increase in UK gardening product purchases online in 2020. Online purchasing has never been easier, and some consumers now look to buy online first before visiting stores.
With EKJU retailers can purchase best-selling furniture lines prepared in specialist home delivery transit packaging so retailers don't need to worry about any specialist packing costs making the home delivery process quicker, reducing delivery times and protecting products more effectively. With some encouraging sales in the last 12 months, EKJU believe the Ecommerce range has never been a more relevant sales solution for the garden trade, for experienced ecommerce sellers and those who have had to adapt to distance selling.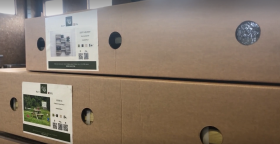 The devil is in the detail
EKJU have paid extra attention to ensure that products sold online are as dry as possible pre delivery and during transit, arriving safely to retail partners. The Ecommerce range is packaged using sturdy cardboard and strong strapping to ensure the product is kept compact during transit. Other features to make the end user experience positive include:
Air holes in the side of the box that keep the treated timber inside ventilated.
Products coming flat packed with full instructions.
Clear product labelling as standard.
Products having guided drill holes and quality fixings to aid self-assembly.
EKJU's mission is to create garden furniture that is crafted with the care and attention needed to ensure the product lasts as long as it takes to regrow a new tree. Their products are constructed using FSC timber that grows in the northern European forests. This live wood is high quality and stronger due to its slow growth, ideal for use on garden furniture for its high density and durable qualities. EKJU also use Kiln drying and pressure treatment to ensure that the finished product is protected and ready to be used in outdoor environments.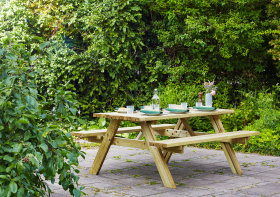 Now's the time to think online
With a solid reputation and ongoing ambition to supply quality timber furniture, the Ecommerce range offers a useful sales solution for the garden trade, whether it's for experienced ecommerce sellers or customers who have had to recently adapted their consumer offering due to social distancing.
If you would like to know further information, please visit www.ekju.com to get in touch.