National garden centre chain Notcutts has teamed up with skin cancer awareness charity the Melanoma Fund and leading gardening experts to educate gardeners about the risks of skin cancer, which affects over 15,000 people every year. Established in 2016, the Melanoma Fund's Watch Your Back! campaign aims to raise awareness of the importance of sun protection and early detection of skin cancer amongst people who spend a lot of time outdoors and are at a higher risk of developing the disease.
BBC Gardeners' World presenter, Mark Lane, and professor David Stevens, international garden designer and author, are both backing the campaign and attended the official launch at Notcutts Tunbridge Wells Garden Centre.
The higher risk of skin cancer in gardeners was exemplified at the event, with melanoma specialists providing free skin health checks for 84 people, with seven referred to their GPs for further investigations.
Caroline Notcutt, vice chairman of Notcutts, said: "At Notcutts we're passionate about gardening and encouraging people to get outside, but it's important that gardeners are aware of the dangers of sun exposure and the long-term damage it can cause to our skin. Over 90% of UV rays can also pass through light cloud and cause sunburn, so it's vital to cover up and apply sunscreen even on overcast days."
Michelle Baker, CEO of the Melanoma Fund, said: "Skin cancer is the most common and fastest growing cancer in the UK. Although we are all vulnerable, it's men over the age of 50 who ignore sun protection and avoid GP appointments, who are most at risk of dying from melanoma. We encourage all gardeners to take care in the sun and check their skin regularly for any growths, or changes to moles."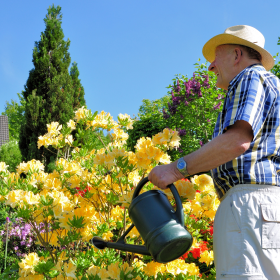 All 18 Notcutts garden centres in the UK are supporting the Watch Your Back! campaign, displaying posters featuring celebrity gardeners and stocking SPF30+ sunscreen, sunglasses and sun hats.