Members of the Garden Centre Association (GCA) in the South Thames region are celebrating after picking up awards during a presentation evening last week (Wednesday, July 17, 2019) at Haskins Garden Centre – Snowhill.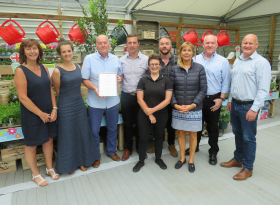 The title of Garden Centre of the Year in the Destination Garden Centre (DGC) category went to Stewarts, Christchurch and the Garden Centre (GC) category award went to Squires Garden Centre – Hersham.
Iain Wylie, chief executive at the GCA, said: "Our third regional awards meeting of the week was a great success and it was fantastic to see attendees all actively engaged in the presentations and taking down lots of notes to share with the rest of their teams.
"I'd like to congratulate all of our very worthy winners and give a big 'thank you' to Haskins Garden Centre – Snowhill for being wonderful hosts and Alyson Haywood for inspecting the centres earlier in the year and presenting her findings."
Alyson Haywood inspected 50 garden centres in the region within a 12-week period. She said: "As always it was a privilege to be able to visit and inspect so many brilliant garden centres in the GCA's South Thames region. The retailing standards were as high as I had expected, and 30 centres received the 'Highly Commended Award'.
"It was encouraging to see so many centres developing their houseplant ranges. There were some outstanding coffee shops and restaurants and it was exciting to see so many centres generally starting to appeal to a wider customer base through ranges and service."
This is the third year running that Squires Garden Centre – Hersham has picked up the Garden Centre of the Year (GC) award.
Squires Garden Centre – Woking picked up the GIMA Award for Best Garden Products Retailer and Squires Garden Centre – Badshot Lea was awarded the Barton Grange Trophy for Commercial Innovation and Creativity.
Sarah Squire, chairman at Squires Garden Centres, said: "I am thrilled that Squires in Hersham took the top spot in the Garden Centre category and that Squires in Woking and Badshot Lea came second in their categories, as well as winning other awards!
"Congratulations to Tim Spearman, Ed Ridgeon, Richard Wells and their teams. This is a fantastic recognition of all their hard work. These are truly brilliant achievements. The GCA inspections are such a great way for all garden centres to learn from one another and inspires us to improve standards across the board."
Stewarts, Christchurch was also a joint winner of the Environment and Community Award on the night.
Terry Head, retail and marketing director at Stewarts, Christchurch, said: "We are so pleased to once again win the South Thames award which recognises the consistent standards, professionalism and hard work by all the team. This also shows it's not always about what you spend, it's what you do to inspire your customers that counts.
"Our determination to increase recycling and reduce our waste to landfill will make a real difference for generations to come for our loyal customer base."
Gary Carvosso, managing director at Coolings Garden Centre and also area chairman for South Thames, organised the regional meeting.
He said: "We were hosted by a very enthusiastic Haskins team, with everyone having a tour beforehand of their new Snow Hill Garden Centre, which is now six months from opening. We had 90 retailers in attendance from the 50 garden centres audited this spring across central Southern England and the South East of the UK, for a very informative presentation by Alyson Haywood.
"The level of retail detail and well executed promotions among South Thames is both inspiring and helpfully challenging for us all."
The next regional award meeting for the Wales & West area will take place on Tuesday July 23 at Castle Gardens, Sherborne in Dorset.
The Scotland and Northern Ireland area awards meeting will follow on Thursday August 29 at Klondyke, Mortonhall with inspector Jane Lawler.
The full results for the South Thames region GCA area awards are as follows for the GC and DGC categories:
Garden Centre of the Year: Stewarts, Christchurch (DGC) and Squires Garden Centre – Hersham
Customer Service Award for Best Customer Service: Garsons Garden Centre – Esher
Environment and Community Award: Joint winners Stewarts Garden Centre, Christchurch and Garsons Garden Centre – Esher
The Barton Grange Trophy for Commercial Innovation and Creativity: Squires Garden Centre – Badshot Lea
The Dick Allen Award for Most Improved Centre: Poundbury Gardens
The ifse Award for Catering Excellence for Best Garden Centre Restaurant: The Millbrook Garden Centre – Gravesend (DGC) and Knights Plant & Life – Godstone
The GIMA Award for Best Garden Products Retailer: Polhill Garden Centre – Sevenoaks (DGC) and Squires Garden Centre – Woking (GC)
Best Indoor Lifestyle Retailer: Garsons Garden Centre – Esher (DGC) and Squires Garden Centre – Hersham (GC)
Best Outdoor Living Retailer: Ruxley Manor Garden Centre (DGC) and Squires Garden Centre – Hersham (GC)