Haskins' £8m-turnover garden centre at West End, Southampton, has a new general manager.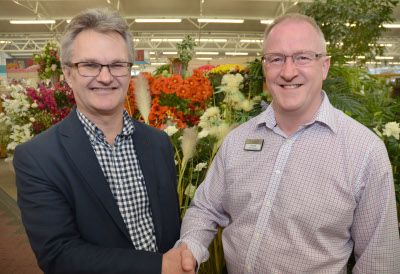 Haskins boss Julian Winfield, left, congratulates Peter Callaway on his promotion
Peter Callaway, from Hedge End, who joined the business in 2011 as assistant manager, has been promoted to the role, in which he will have charge of the team of 140 full- and part-time retail and catering staff.
Prior to joining Haskins, Mr Callaway held management posts with Harveys in Portsmouth, spent seven years with B&Q at various stores with promotion from deputy manager to project manager, and has also worked as a night manager for Asda at Bournemouth's Castlepoint Shopping Park.
Haskins chief executive Julian Winfield commented: "It's great to be able to promote from within. Peter has done a great job over the last few years and I'm delighted he has the opportunity to now lead the team."