Hyve, the organiser of Glee, the UK's leading garden and outdoor living trade show, and the co-located Pawexpo, the premium pet trade show that cares about pets, people and the industry, has announced changes to the scheduled event in 2020.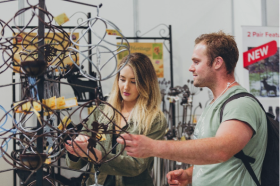 As a reflection on conversations between the organisers and the garden and pet retail market, Hyve made the decision that Glee and Pawexpo 2020 will not take place this year. Glee and Pawexpo will return as a live event at the NEC in 2021.
The team behind Glee and Pawexpo will be hosting a virtual forum for the pet and garden retail markets this autumn, taking place on 15 and 16 September 2020. More information on this online event will be available on the website in due course. A preview will also be published in the August issue of DIY Week.
'We have been listening to both our exhibitors and visitors, and the feedback from garden retailers has been incredibly supportive of Glee and Pawexpo. That has enabled us to take a fresh approach and bring the community together through the launch of a brand-new virtual forum," said Matthew Mein, Event Director – Glee and Pawexpo. "We're excited to have the opportunity to provide a new platform for interactive industry discussions and product discovery. We are also looking forward to when the industry can meet again in person both at Glee at Spring Fair in February 2021, and Glee and Pawexpo 2021 taking place 14-16 September."
"We're delighted that Glee is launching a virtual forum", says Boyd Douglas-Davies, P.R. & Communications Director, British Garden Centres Group. "We are looking forward to fully engaging with this in September. Glee is such a pivotal point in the year, missing a year was never an option for us. We wish Glee's virtual forum every success and look forward to meeting everyone in person again in 2021."
More information will be available on the website in due course. Glee and Pawexpo will continue to provide webinars, industry news and digital content that keeps the garden and pet retail community informed and connected on The Community hub.