Ahead of National BBQ Week (beginning on Monday 25 May) Weber has released its latest market report, as good weather and lockdown have combined to create a BBQ boom in Britain.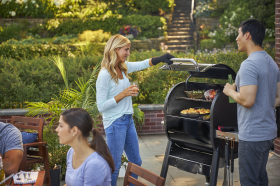 Barbecuing has never been more popular in the UK says Weber Barbecues (weber.com). More people in the UK are searching for barbecue information than ever before and search terms have doubled since this time last year (Source: Google Trends. May 2020.). One of the world's biggest barbecue brands, Weber Barbecues, has recorded a huge surge in UK sales and an increased appetite for barbecue inspiration.
"With people spending more time at home and with such good weather, we've inevitably seen a spike in people looking for creative ways to cook out, whilst staying in," said Chris Trewitt, Weber's marketing director Western Europe.
"We have seen an increased interest in specialist accessories from our Gourmet Barbecue System range, such as the Pizza Stone and the Poultry Roaster and an increase in our follower base on Instagram by 42% in just two months as people are actively seeking creative ways to barbecue beyond the usual bangers and burgers.
"On average the British barbecuer will have 1-3 cook-outs a month over the Summer. We predict this will more than triple in 2020 and what is being cooked could lead to a revolution in British barbecuing. With Garden Centres now opening, we hope the nation will be further supported in what is taking shape to be one of their most popular past-times."