Tong Garden Centre is set to complete the first stage of its latest expansion with support from a seven-figure HSBC UK funding package.
The centre, which is situated between Leeds and Bradford, is expecting to complete the construction of a 4,000 sq. ft. warehouse this month. The new facility will have capacity for 400 pallets of stock and will support the business to meet growing demand both online and in store.
Opening the warehouse signals the first phase of major redevelopment since the site was acquired in 2015 that will include a new two storey building, a new plant canopy, a bespoke soft play and event space and the development of the lakeside area with log cabins for educational and horticultural use. The investment will help to enhance the customer experience and to consolidate Tong's position of one of Yorkshire's leading garden centres.
The garden centre saw positive growth in 2018, winning an accolade for Elite Business of the Year, winning the festive display category for the third year running at the GCA awards, creating jobs internally and expanding the team, and Tong Garden Centre's developments, due for final completion in 2021, are expected to create up to 40 new jobs.
Charlie Barker, finance director at YGC Group, the parent company of Tong Garden Centre, said: "Completing the new warehouse will provide a fantastic boost to the business, as we look to build on a great platform. We have just completed a strong Christmas trading period, with annual turnover now exceeding £9m. With these proposed developments in place and increasing online customer demand, we expect to see strong double digit growth over the next three years."
Andy Mears, centre manager at Tong Garden Centre, said: "Tong Garden Centre has a very special place in the hearts of the local community. Whilst we are, and always will be, a garden centre led by gardening products, we will now be so much more than a garden centre. The soft play will be a great addition to our current outdoor play facilities and the new events space offers exciting possibilities for customer events, and workshops, family experiences and community initiatives."
James McCullough, relationship director for West & South Yorkshire, HSBC UK added: "YGC Group has  restored Tong to the iconic garden centre that it once was and the centre does a fantastic job at ensuring the satisfaction of its customers. Those that have visited know that Tong Garden Centre is much more than a garden centre and the scale of redevelopment takes this to the next level. Opening a new warehouse of this size shows that YGC understand the benefits of matching experiential and online retail offerings."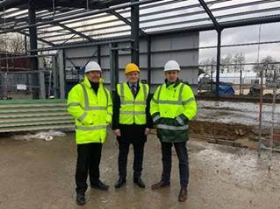 The deal was part of HSBC UK's £1.05 billion lending fund to support SMEs in Yorkshire.